I've finally had enough of the internet failing to give me an answer to how to cook a blue steak and have decided to do my own step by step instructions.
First off: What is a Blue Steak?
If you think about the difference between well done and rare, well there is just as much difference between rare and blue. It's way beyond Very Rare. I've seen "blue steak" variously described as: take a cow, rip off any horns, wipe it's arse, and throw a match on it; or my personal favourite: steak so rare, a good vet could bring it back to life! 🙂
Don't get me wrong, a blue steak is not Steak Tartare (which is completely raw), it is cooked though of course definitions vary as to what "cooked" means when it comes to a blue steak. When I left home as a teenager, I believed a simple idiom: If it's not brown, it's not cooked. So whenever I had steak, I always had it Well Done. So guess what: I hated steak! I rarely (haha) ate it, as it was tough, chewy and tasteless. I couldn't see why everyone seemed to rate a "good steak". It all tasted the same to me: like boot leather.
Over the years though, I figured that as half the population hadn't died by eating rare steak, maybe it didn't kill you on contact after all! Perhaps people were right that rare steaks were "cooked". So I looked into it, and here's what I found.
Here's my take on it (disclaimer – I know nothing, and the advice here is worth what you paid for it: nothing! If you change your eating habits as a result of this post and die, not my fault, though you may have had a great last meal, lol!): anyway, as I understand it, germs on a piece of steak only grow where they come into contact with air. Therefore, the germs are only ever on the outside surface. This is why you never get even medium burgers, because the mincing process mixes up all the aerated surface bits through out. Burgers have to be well done, to kill the germs in the middle, steak isn't like this. If you sear the outside surface, you kill the germs.
But eating even medium well done (i.e. a slight hint of pink) was what my mother had taught me was "raw meat" and it made me gag. However I implemented mind over matter and slowly went from well done, to medium well done, to medium, to medium rare, to rare, to very rare and finally to our destination: blue steak. I'll admit, that simple sentence has taken me 10 years of my life and no small amount of "encouragement" from the missus!
And now: I love steak! Gone are the minutes of endless chewing a hunk of leather that required copious amounts of beer to make palatable enough to wash down. Blue steak is tender, juicy, full of rich flavour and best of all, melts in the mouth. This is a great picture of some blue steak: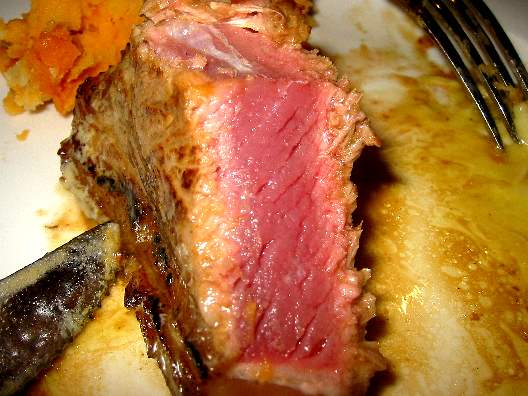 See how only the outside is dark brown, followed about a few millimetres of light brown, then the middle is as red and bloody as the day it was born. Yummy! 😀 But anyway, back to the point of this post: how to cook the perfect blue steak! Here's how I do it:
Get the best bit of steak you can: go for fillet steak if you can get it, or sirloin steak, or if you must rump steak.
However, also try to get the thickest cut possible.
If you can, leave it out of the fridge for a few hours before cooking. This is to bring the steak up to room temperature, which will help the middle become warm, considering the quick cooking time (2-3 minutes).
Salt and Pepper the steak to taste, I like a bit of sea salt and a lot of cracked black pepper corns. You can also add some herbs if you like, a sprinkling of rosemary is my favourite.
Heat some (extra virgin) olive oil in a large frying pan. Set the heat to HIGH, you want it HOT.
Pop in a small nob of butter, which should bubble immediately.
Now carefully place your soon to be blue steak in the frying pan. Try to leave it alone, don't fuss over it. No stirring or prodding, no weighing it down or pressing, the occassional shake of the pan should be all that's required to alleviate your worries that it might be sticking.
Make sure the heat is still on high.
If your steak is thin, after 1 minute, that side will be done so turn it over.
If your steak is thick, you might be inclined to stretch to 1.5 mins per side.
After the 2nd side is done, you should ensure that no part of the surface of the steak is still uncooked. If you have a particularly thick steak, it's possible the sides aren't cooked, so manipulate the steak to slowly roll it round on its side.
And we're done! Your newly cooked blue steak is ready for eating. The one I had for tea tonight was a nice Zone Diet friendly version, so I had it with a simple side salad and a black pepper sauce made from the liquor left in the frying pan, I simply added some beef stock, some red wine, and a dash of single cream. Zone diet experts will notice that this is probably a bit short on carbs for a properly balanced zone meal, but ask yourself this: where did the wine for the sauce come from, and what do you think happened to the rest of the bottle! 😉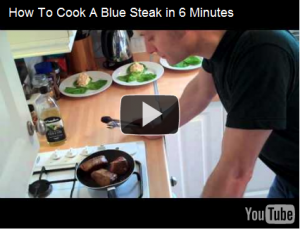 EDIT March I've finally got round to making a Cooking a Blue Steak Video