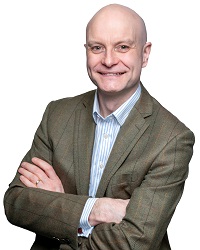 I've had this blog since 2007 and only just got round to putting this About Me page up. Why? Because I'm a typically restrained English man, and the idea of writing a page all about li'l' ol' me is rather repugnant to my sense of English refrain. Besides, where on earth do you start describing who you are? Assuming I even know who I am, could I summon the words to express myself adequately? Indeed, what is it to "be" someone? What is it exactly that distinguishes me from, well, you? Sadly I'll have to fall back to the cliché of defining myself through traits and experiences and hope that satisfies your curiosity.
To start with then, as I'm sure you've just worked out out already, I think too much! Or so I'm told. Personally I think (there I go again!) that most of the world must walk around with their brains turned off or something, because I think I would be doing life an injustice to think any less, but there you have it, that's thinking for you! 😉
So then on to the potted history: career wise I spent 20 years as a Chartered Engineer and have worked on many engineering projects such as:
Remote controlled robots for nuclear power plant inspection and repair
Air to air missile simulation systems
Formula 1 racing car test rigs
In 2000 I started my first company and since then have mixed my own online business ventures with being a freelance IT Consultant, consulting on projects with budgets from £5k up to £200M at blue chip companies like:
HSBC Bank
Barclays Bank
EADS (the owners of Airbus)
British Telecom
The Ministry of Defence
The Fire Brigade
The NHS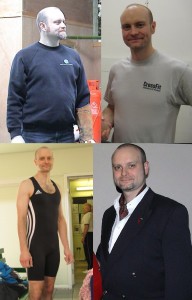 As many sedentary western office workers do, I had become fat and over weight, I had a 43″ waist and was 30% body fat. In 2007 I found CrossFit and got started on the Zone Diet and it changed my life. Check out these before and after pics, pretty amazing huh? My achievements since starting CrossFit (click the links to see write ups of each certification with more pics):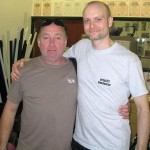 More details on that year, with pics of the certificates for example are here. Left is a pic of me with (now discredited) Greg Glassman, CrossFit's creator, back when he was actually doing certifications personally and I was honoured to attend the first ever CrossFit certification outside of north America.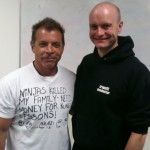 I am also a Personal Defence Readiness (PDR) Coach at PDRmanchester, which is the general public branch of Tony Blauer's (world famous martial artist) S.P.E.A.R. self defense system. On the right is me (grinning FAR too much!) and Tony, which was also at the first ever PDR cert outside of North America.
Just to give you an idea of how well adopted it is, apart from being taught to military and law enforcement units all over the world, the SPEAR System is the only system of self defence mentioned by brand in the Association of Chief Police Officers (ACPO) training manual, required reading for all English police officers! But that's not why I like it.
PDR is not a martial art, there are no belts, there are no white (or black) pyjamas to wear, and you don't have to wait 3-5 years to get your black belt before you can defend yourself effectively. Give me an hour and I will make you safer inside or on the street. Give me a day of your life and you'll feel safe nearly everywhere you go! How would that change your life? It changed mine.  With Tony Blauer's recent tie in with CrossFit, I've also certified as a CrossFit Defence Instructor which brings 2 loves together.
In other news, whilst serving on the local air cadet squadron's civilian committee, I applied for, and successfully won, the squadron's first ever National Lottery grant. I joined the squadron when it had less than 10 cadets, and less than a £grand in the bank. I left it with about 30 cadets on the books and a 5 figure bank balance. Not even close to all my doing of course, but I was happy my 2 years there was well spent.
Getting back to careers, the wife and I have always been interested in property, in fact we bought our first ever house from a pair of motivated sellers who were getting divorced and got a nice discount to boot. Doing up that house we soon sold it for a profit and started moving on up. In fact we've made healthy profits on all our houses through canny purchases and a bit of elbow grease, which led to us having no mortgage on a 5 bed detached house by the time we'd reached 30. [EDIT: This was a HUGE mistake, see here for why!]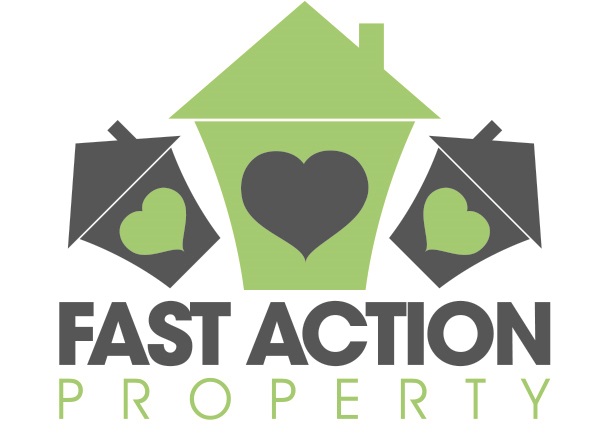 There we paused however, and only really restarted in property as a career in 2013.  Having worked on property only part time, we got up to half a dozen tenants, and had already done a complete back-to-brick renovation of a 3 storey town house, which was stressful at times, but a lot of fun and hugely satisfying to bring a derelict, uninhabitable, unmortgageable property back to life.
Having educated ourselves and further honed our property investment skills for the last few years, we gave up working "for the man" and focused full-time on our own property business: buying, renovating, selling and renting property. 
5 years later, we were in the enviable position of being able to semi-retire, in our 40's!  There's just one problem: retirement is dull. I soon got bored of doing nothing but managing the properties. So I put my thinking cap on.
What role / job could I think of that used my analytical mind, love of numbers and spreadsheets, got me out of the house/office and meeting people, helped people out, scratched my "Oooh that's interesting" property itch, and leveraged the skills, knowledge and network I'd built up over the last few years? 
Then it came to me: Mortgage Broker. It's a perfect fit. So in early 2019 I set about retraining, doing the requisite studying, took the 7 different exams required, and started work as a Mortgage and Protection (insurance) Adviser. It's been great, I love it.
If you need a mortgage, whether that be for your own residence, a Buy To Let, a commercial property, or bridging finance, or if you need life assurance, critical illness cover, income protection, private medical insurance etc, then do please get in touch and I'll be happy to advise you: 07711 849707.
In addition, after several years of being prompted by a few friends to do this, I've also started doing some property coaching. Note I differentiate "coaching" from "mentoring".  I'm less interested in teaching people what to do, but more interested in helping people do what they know they should do, but can't quite seem to manage it.
If you haven't achieved what you thought you should have by now in property, you're the kind of person I help.
It's very affordable 1 to 1 personal coaching calls, every week. I only take a handful of clients at a time. If you'd like to do more in property then give me a call and we'll see if we're a good fit for each other: 07711 849707.
After mastering the fine art of placing mortgages at the right lenders and making sure people and their families were protected should the worst happen, I moved up the financial services ladder and added permissions for pensions and investments, becoming a fully holistic Independent Financial Advisor. I work with a great team with decades of experience investing over £250,000,000 of our clients' hard earned cash, enabling people to achieve their financial dreams, which typically means, early retirement!  
If you're unhappy with your current financial advisor or the performance of your pension or investments, honestly, I can help. Give me a call today, or text or WhatsApp to setup a call: 07711 849707