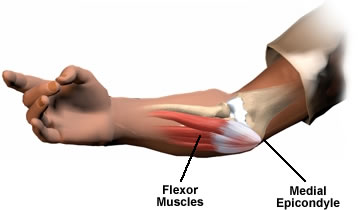 3 years ago I got Golfer's Elbow (medial epicondylitis) which is essentially very similar to Tennis Elbow (lateral epicondylitis) except it hurts on the inside of your elbow, not on the outside.
After trying all sorts of treatments, I posted a long blog post discussing my Golfer's Elbow Treatment and Cure. This post contained lengthy discussion on all the things I'd tried and researched regarding how to treat golfer's elbow, including:
Complete Rest
Physiotherapy – Ultrasound
Physiotherapy – Interferon
Physiotherapy – 10 min Massage
Golfer's Elbow Exercises and Stretching
CT Cream off the internet
Band-It forearm Band
Acupuncture
Physiotherapy – Remedial Massage
Golfers Elbow Exercises
The Zone Diet
Fish Oil Supplements
To be honest I didn't expect anyone on the internet to notice, the post was for my own benefit really. I was extremely surprised then to discover that it became one of the most popular pages on my blog and has attracted over 100 comments and literally thousands of visitors. But most importantly, there has been a wealth of information added to the page in the form of the experiences of others who have suffered elbow pain.
At the time I said I was 95% cured of my golfer's elbow, but things have changed in the last 3 years and I'm older and wiser at treating golfer's elbow, so I thought it would be useful to post an update and also to summarise the extra advice given by all the commentators on my original post.
Have My Golfer's Elbow Treatments Cured Me?
I would say the answer to this question is yes… mostly! That is to say I'd call myself at least 99% better. Almost all of the time I have no more pain. I continue to workout down the gym, can do all CrossFit exercises, including all the Olympic lifts. It certainly didn't stop me becoming British Master's Weightlifting Champion in 2010 so I guess from the point of view of functional fitness, I am cured.
That said, there are just 2 exercises that always give me a little niggle: front squats and shoulder press. Either one of these I can do to max effort and come away with a bit of pain that lasts 24-48 hours and then goes. The only time I have a problem is if I try to do both these exercises in the same workout. If that's all I have to avoid, then I'm happy happy happy!
Of all the things I tried, and all the advice given on the other post, there is one simple thing that I credit with my recovery.
But before I get onto that, I thought it would be a good idea to summarise some of the advice given by other golfer's and tennis elbow suffers from the other posts comments, which should be considered in addition to the list of things above:
13. Active Release Technique (ART)
ART works on the principle that over time, adhesions or scar tissue on your muscles build up (and I guess possibly tendons) and prevent normal movement of your squidgy bits. Through hands on manipulation, these adhesions etc are broken (I'm guessing that hurts!) resorting full and normal movement.
Several commentators mentioned this but only one reported any success with it (though she wasn't using it in isolation, so you can't be sure this was what helped). I would say that if that's your problem, it sounds like it might work. However I am very sure that muscle adhesions weren't the cause of my elbow pain, so I didn't use this as a treatment for golfers elbow.
14. Cortisone Shot for Golfer's or Tennis Elbow
Cortisone shots (not Cortizone but sometimes called Corticosteroid Injections) are the injection of anti-inflammatory steroids into the elbow. (Cortisone is a type Corticosteroid and the 2 words are often used interchangeably.) Usually people report good results are reducing pain with Cortisone Injections, but the benefits are temporary (typically only 3 weeks!) and this is treating the symptom (pain), not the cause of your elbow injury.
Personally, unless you are a competitive athlete and need to be pain free for a competition, I think they are a bad idea and here's why: pain is your body's feedback mechanism to tell you something is wrong and what you're doing could be doing yourself more damage. If you use the magic of modern medicine to hide your pain, you could easily be injuring yourself more and not knowing it. At best this will just prolong your elbow recovery time, at worse… who knows what additional injury you may cause?
Further more, inflammation is your body's natural defence mechanism against further injury. We have evolved that mechanism over millions of years of evolution (or God gave it to us, if you prefer, either way we have it) so to mask your body's normal mechanism for resolving an injury, doesn't seem like the right thing to do. To be clear here, I'm all for medicine helping the body out (casts for making broken bones heal straight etc) but we're not fixing golfer's elbow with a cortisone shot, just masking the symptoms. So for me, cortisone injections for elbow pain are just not worth it.
15. Icing and Heating the Injured Elbow
Icing any injury is typically a way to reduce swelling and inflammation, and reduce pain. (Sometimes extended to RICE: Rest, Ice, Compression and Elevation.) Again in my opinion this simply treats the symptoms, not the cause, so I'm not a fan. Having said that, heating does appear to have some use: Tendons (golfer's elbow is a form of tendinitis) have few blood vessels and so don't get much in the way of blood circulation. Heating is a way of improving that circulation which gets extra nutrient rich blood flowing to them. This can only be a good thing if the cells are trying to repair themselves.
There's some thought that icing before heating is better than just heating on its own. That's a tricky one, as ice is good for reducing pain. A physiotherapist told me that the combination of ice and heat can help to get blood flowing better than just heat, which may be true. Massage is also good for getting new blood into the tendons. On balance, I would suggest that a combination of icing, heating and massage certainly can't hurt and can only speed your recovery.
16. Laser Treatment
A couple of visitors mentioned this, but mostly as a way to line their therapists pockets! Lasering away at your body isn't high up on my list of ways to pass the day, though I suspect in order to keep it safe, the power of the laser is so low as to probably not do much anyway. Personally I wouldn't do this.
17. MRI Scans
These are obviously not a treatment in their own right, but a tool for diagnosing the route cause of your elbow pain. Some people who have had them report that they have shown up tears. This can provide your doctor with the information on whether to refer you for surgery, or whether just some specific golfers elbow exercises would cure you, as I detail below.
18. Prolotherapy
This is the process of injecting a mild irritant into the body, in order to trigger some regenerative reaction. Irritants include things like sugar water, glycerine or cod liver oil. It claims to be useful in a wide variety of common ailments.
To be honest, this gets my spider sense tingling and it just feels like quack remedy, but you never know. A few commentators tried it but only 1 claimed it was the cure they were looking for. Apparently there's a clinical trial under way at the moment specifically looking at prolotherapy as a treatment for tennis elbow. If I spot the result, I'll post it here.
19. Thera-band Flexbar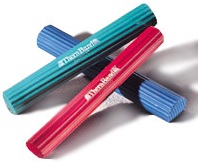 In ascending order of difficulty Yellow, Red, Green, and Blue Theraband Flexbar bars are hand exercisers that claim to be an effective tennis elbow treatment and golfers elbow treatment.
Certainly I'm a proponent of appropriate exercise as a golfers elbow treatment and the Thereband Flexbars can help and several people have reported success with them. It 'll cost you $56 for the full set, which I'd recommend in order to start off light and work up. The prescription seems to be 3×15 rep 3 times per day. However these bars only really help with rotational exercise which I think is limiting, so see my specific comments on golfers elbow exercises below:
20. Voltaren Gel (also Voltarol Gel)
This is a topical anti-inflammatory cream based on the NSAID (non-steroidal anti-inflammatory drug) Diclofenac. I think everything I said about cortisone shots apply here too, it's a symptom treatment, not a cause fixer. I didn't try it.
21. Remedial Exercises
Combined with the original post that started all this, I've now covered 20 different treatments for golfers elbow.
There is good news however, given enough time, everyone gets better!
Our goal of course is to minimise that recovery time, and bring it down from years to months. From all the differing treatments attempting to find a cure for golfer's elbow that people posted about, there is a common thread amongst those that reported successful recovery, and it's one that mirrors my own experience. I said above there was a simple golfers elbow cure and this is it: specific exercises! If you read my other post, you'll note that my conclusion at the time was that eventually your elbow pain will go away, and you will credit the last treatment you had for it's cure. However in most cases, people who got better stated that they did some form of remedial golfers elbow exercises.
As mundane as it is, I agree with them. Sure we'd all like to buy a that magic cure, but if nothing else I think the myriad of alleged treatments proves that there is no silver bullet here. Cessation of whatever caused it, some rest, and a slow and steady program of remedial golfer's elbow exercises and stretches, designed specifically to gently work the appropriate area, is the best and most effective cure for golfer's elbow, and I would say, tennis elbow too.
Having come to this conclusion, I set about to look for the best program of exercises I could find. After all, I didn't want to be splashing money out for physiotherapists for month after month. There had to be something out there that was quick and easy to do, and cheap too!
It took me a while as there's a lot of fluff and nonsense out there, but I finally found a program that met my criteria as being low on bull and high on simple, effective stretches and exercises, that's cheap and you can get your money back if it doesn't work! There's no expensive kit either, you start with a hammer and an elastic band, lol! What's more, because it's a set of downloadable PDFs, you can be up and running in minutes and the videos make it impossible to get wrong.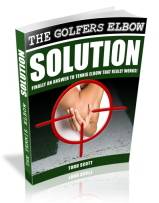 It's by an unassuming guy called Todd Scott, and deals equally with Golfer's Elbow and Tennis Elbow Exercises and Stretches (click here) That link takes you to a big waffly sales page, a sad reality of internet existence these days, but don't let that put you off. At the end of the day it's up to you, but it only costs $4.95 for a 7 day trial and of all the different golfers elbow treatments I tried, these exercises are what I credit my cure and continued pain free existence to.
Should I exercise if I still have pain?
This is a question that I've been asked several times, and is something that Todd deals with in his videos better than I can here, it was certainly something I was keen to find out the answer to. I'll leave it to Todd to answer that then.
I know I was a bit worried the first time I bought something like this online, so I thought I'd put together a quick video of the order process, so you can see exactly how it works (note that this video was taken when I still had my old website theme, not this groovy new one, and also before Todd changed the name of his product to Golfer's Elbow Solution), take a look:
The link you need is this one: www.ColinMcNulty.com/tips/golfers-elbow Good luck, and do come back and let me know how you're getting on, I love reading everyone's comments!