I had a great time last week with a team of 4 guys from work, at a team race at Team Sport Karting in Cardiff. It was a 2.5 hour team endurance race, with 10 teams in total and about 50 drivers.
Of course my team won, which is because we were awesome and cos I chose good team mates (I organised my team), but of course that's not important, it's the taking part that counts, the fun isn't in the winning, yada yada yada. 😉 Here's a photo of the finishing positions, we're first with the team name "Appeal Pending"! We are 3 laps up on 2nd place, and 16 laps up on 3rd place. Very sweet: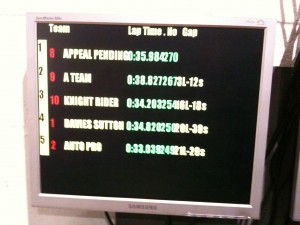 Watch this short video of what happens when some karts come 3 abreast over the bridge and one stacks it into the wall at the top of the ramp. *Ouch* When he comes round the hairpin, you can see him rubbing his side. That's going to bruise in the morning!