Today I came across this "You scratch my back, I'll scratch yours, and we both get 500 free Wii points to spend on games." wheeze:
You may have heard, Nintendo launched a program recently to encourage Wii users to connect their Wii online, called the Connection Ambassador program.
After you get connected, if you enter the Wii number of the person (the 'Ambassador') who helped or encouraged you, this will then prompt them to enter your Wii number. You then both get 500 free Wii points – enough to download most of the old NES Virtual Console games.
– Go to the "Wii Shop Channel"
– Click the "Connection Ambassador Promotion" icon and select "Person who was helped"
– Now, enter the following number 1544 3459 6759 5214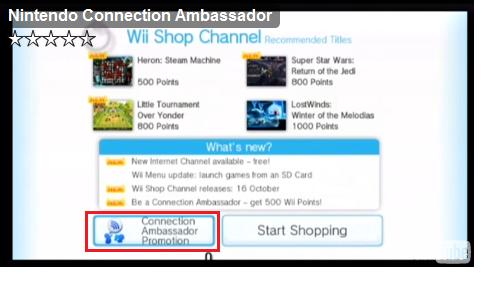 Once this step has been completed you will need to send me "your Wii Console Number" by posting a reply to this post. Then, I can then CONFIRM this as the Connection Ambassador, so that you can receive your FREE 500 wii points!
How to get your Wii Console Number:
1. Go to your Wii's main menu.
2. Click on the picture of an envelope at the bottom right hand corner of your screen.
3. NEXT click on the icon that looks like a piece of paper with a pencil on the left-hand side of your screen, it will say create message when you point at it with your wii remote.
4. Then click on create message, then CLICK ON ADDRESS BOOK at the far right of your screen.
5. Now, you should see your Wii console number on your address book.
6. IF YOU ARE ASKED HOW OLD THE PERSON IS WHO HELPED YOU THEN CLICK BOX MARKED BETWEEN 30 AND 39, IF ASKED HOW THE PERSON HELPED YOU SAY ARRANGEMENT FOR INTERNET CONNECTION!
This is a great way to earn 500 points, for no outlay !
Even better – Nintendo now give the Internet Channel (Opera browser) FREE (it was 500 points) so you can browse the web free from your Wii, including YouTube and BBC iPlayer.
Also, don't forget the 'scratch cards' that come with the console and other Nintendo games. Register with Club Nintendo to get Nintendo Stars, and these convert these to Wii points – every 400 Stars converts to 100 Wii points.