WTF am I doing up at 3am on a Sunday morning when I should be tucked up in bed fast asleep? I'll tell you:
After being woken up by the cat puking up on the landing floor, my head is buzzing with all things Crossfit. Spending a full 9-5 day at a Crossfit Certification being lectured and coached by some of the best Crossfitters in the world, has a tendency to do that to you. It was always going to be good, but there were 2 great surprises.
First was that it wasn't Annie who came over, but Nicole Carroll who has more excitable energy than any human has a right to: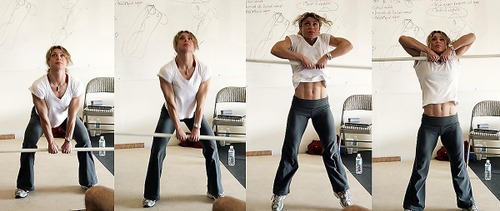 The second a great surprise was that despite what I had been told last week, Crossfit Founder, Coach Greg Glassman himself flew in at the last minute, just an hour before we started.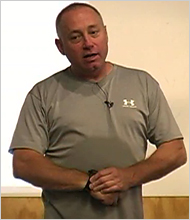 Now I've seen both Carroll and Greg on the many videos that are on the main crossfit site, but seeing them in the flesh and hearing them give the lectures first hand is a totally awesome experience, one that I won't forget for a long while. On top of that were Andy, Jimmy and Todd (one is Navy Seal Officer, the other a US Marine Corp Captain I think, but I forget which. Nice guys to know!)
There are 70 people on the certification, from all round Europe: Ireland, Sweden, Switzerland, Germany, Italy and even as far away as South Africa. Plus the trainers from almost every affiliate in the UK. The day started with the obligatory introductions and then we got straight down to a "What is Crossfit and Why do we do what we do?" given by Greg Glassman, and if anyone should know, the guy who invented it should! If you don't know, the core elements of Crossfit are:
Functionality
Intensity
Variance
2nd up was Nicole Carroll who took us through the first 3 of 9 core Crossfit exercises:
Squat – Front Squat – Overhead Squat
Shoulder Press – Push Press – Push Press
Deadlift – Sumo Dead Lift High Pull – Medicine Ball Clean
Afterwards we went outside and worked through the squats with PVC pipe.
After lunch, an afternoon lecture from Greg again on "What is Fitness" included a great run down on: the history of Crossfit; how Greg started off as a "Bike riding, weight training, gymnast."; the creation of the Thruster; and the invention of the infamous Crossfit Workout named Fran.
Another lecture on the 2nd set of 3 core exercises followed another stint outside in surprisingly glorious British sunshine with the poly pipes.
Lastly the obligatory workout was done for time, in teams of 3:
200m run
30 air squats
30 kettlebell swings
3 hours down the boozer in the evening topped off a great day. Although my 3 hours sleep tonight is not going to help day 2 that's for sure.
I suspect I'll be blogging about Crossfit even more in the future.
EDIT: See here for Manchester Crossfit Certification Day 2