Thanks for all the messages of support, I can confirm that I did win my category at the 2010 BWLA British Masters Olympic Weightlifting championship finals this weekend.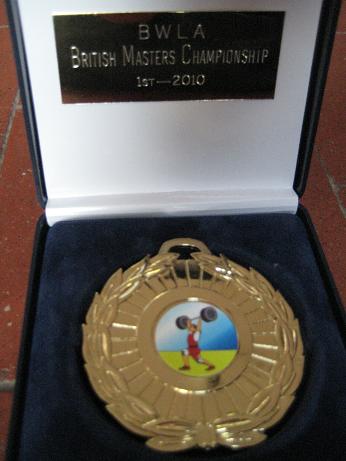 I was expecting to be lifting against Anthony (Tony) Down, from the Empire Club in Bristol, but it turned out that he came in overweight for the 77kg category at 78kg, which left me lifting all on my own. (I weighed in comfortably under at 75.9 kg.) All I needed to do was get a total and I was home and dry. To be clear then, here are the relevant rules:
To qualify for to be able to compete, you must lift the qualifying total in a BWLA officiated (3 judge panel) competition in the previous 12 months. I did this when I lifted a 165kg total in the Northern Masters Weightlifting Competition in 2009, which is the qualifying standard for Mens Group 1 (35-39) in the 77kg body weight category.
On the day then, you must open within 15kg of the qualifying total, so I had to open with a minimum of 150kg.  I opted for easy openers of 65 Snatch and 90kg Clean & Jerk.  I could/should have opened 5kg higher on each (70 and 95) which was my plan had I been facing Tony, but there was no point risking it.  Especially after my recent shambolic training performances.
You need to get at least one Snatch and at least one Clean and Jerk to make a total.
That's it, all I needed to do was get my openers and I was the winner.  Sadly I started the video camera too early and it ran out of juice (I may try to send it back as a full charge only lasted 70 minutes!) so I only got a video of the snatches, which I may upload at some point.  I've pondered whether this default win detracts from the occasion? But the way I see it, it means I actually won it back when I lifted 165 at the Northern Open, as I was the only person (apart from Tony) who made the qualifying weight, I just didn't know it yet!
The snatches went very well and I easily power snatched the 65, then the 70 and finally did a full squat snatch (though had to chase it across the platform!) for 75. Which considering my body weight of 75.9, was less than a bag of sugar away from a body weight snatch. To be honest, now with hindsight, I regret not opening at 70 as I'd originally planned, as I reckon there was a snatch PB in the offing (current PB is 77).
C&Js didn't go quite so well.  The 90kg opener was trivial, but then I made a mistake and jumped straight to 100kg.  It seemed like a good idea at the time, 100kg is an =PB lift for me, and 95 meant nothing so going for it seemed the right thing to do.  In reality, the 10kg / 11% jump in weight caught me off guard and I dropped both my 100kg attempts.  Note to self: 5kg increments only in future.
So I finished with a 165 total (70 + 90).  But I suppose the real question is, how would I have done if I'd been facing Tony? Tony it turns out is a very nice fella.  Well of course he is, he's a 5 year Crossfitter!  We shared a warm up platform and generally encouraged each other throughout.  It is hard to say what would have happened as it turns out that his personal best total of 177 is exactly the same as mine!
Tony got a 70kg Snatch and 100kg C&J, and he was competing against a Scotsman in a close run race, so on the face of it, he would have beaten me.  However had we been competing, I would have started at 70 snatch, which I got, as I got the 75 and reckon I would have got a new PB of 78.  Similarly I'd have started at 95 C&J which should not have been a problem, and I reckon the smaller 5kg increment would have seen at least one of my 100kg lifts come off which I've got several times before, giving a 178 total.  But then, maybe Tony would have lifted differently if he was against me?  Who can know, it's all academic.
I do know several things though. 3.5 years ago I was a fat couch potato who hadn't done a jot of exercise for 15 years and now I'm British Champion at an official Olympic sport. How does that happen?!? Here's how, and I owe a debt of gratitude to all involved:
I decided to change my life, but I didn't know how.
My mate Ian Sturrock put me onto Crossfit.
Mark Beck and Karl Steadman opened Crossfit Manchester and filled it with a great bunch of supportive people.
They got me on the Zone Diet which has morphed into more of a Paleo Zone.
Mark especially has coached my weightlifting form over the last 3 years and always selflessly gives his time to coach me when I'm at a competition, and generally be helper extraordinaire. I am very grateful and would definitely not have done it without his help and support.
So what's next? I think I'm going to take some time off the weightlifting focus and get back to more regular Crossfit for a while.  Crossfit is a whole load of fun, dropping snatch after snatch whilst training on your own (when I'm away from home) is not.  As a result, I've left the gym I go to in Cardiff: Aspire Fitness, especially as my contract should be finishing up shortly.  They're a nice bunch down there, and I'm sorry to leave them.
There are 2 things to aim for I think, one is the European Masters Championships.  I need a 182 qualifying total so need to get my snatch up to 80 and clean and jerks up to 102.  But it irks me that both the 2 biggest Masters competitions of the year: the British Masters and the Northern Masters, are outside the qualifying window for qualification.  That's bad planning!  Also there's the simple fact, that if I wait a couple of years till I'm in the 40-44 category, the qualifying total comes down to 172, which is much more doable, lol!
The second thing is the the English Indoor Rowing Championships (EIRC), which I've had my eye on for a couple of years, but always chosen the weightlifting in preference, as often they are both on the same weekend. I've got my eye on the 500m title, which if I can make the 75kg lightweight category, I could win easily. Judging by this years numbers my personal best is 7 seconds faster than the 1st place time! So I need to be good this Christmas and not pile on the pounds if I'm going to make 75kg by 3rd week in Feb.
Anyway, it was an exciting weekend and I'm currently very chuffed.  I'm sure the feeling won't last long.