Given the hung parliament, I thought the UK election results map was interesting, as it really shows the partisan nature of various regions throughout the UK. I know it's a slightly simplistic interpretation, but you can see in the map below, that the Conservatives control most of England, especially in rural areas, whereas the Labour strength comes mostly from highly populated inner city areas.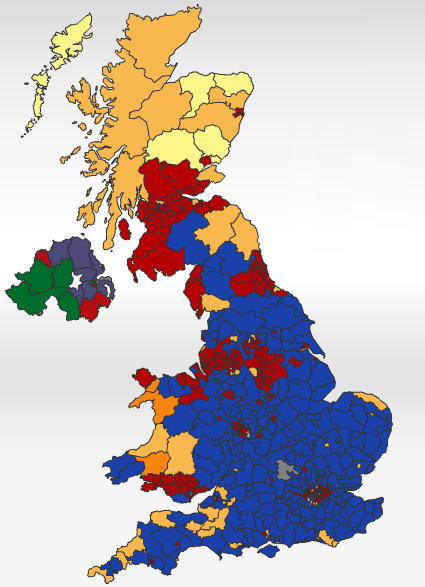 Yes of course there's an argument for how constituency boundaries are drawn, but it's very difficult to have an unbiased opinion on that, and I accept that my own view would be clearly clouded by the outcome that I'd want. But what has not occurred to me before, is that 2 of Labour's clear areas of dominance, are South Scotland and South Wales. In fact Labour have 41 seats in Scotland as a whole, and 26 seats in Wales, compared with the Tories' 1(!) and 8 respectively.
So consider this: if Labour ever really allowed the devolution of Scotland and Wales and this general election turned into an English election, that would result in a loss of 67 Labour seats, compared with a loss of only 9 conservative seats, meaning a swing to the Tories of 58, or a fifth of Labour's power base. It would also reduce the number of MPs in the English parliament by 100, to 550. In the current election then, this would have given the Tories a clear majority with 298 seats (54%). Compared with Labour's 191 seats (35%).
It is no surprise at all then that Labour rejected the Scottish National Party's suggestion of a "Progressive Alliance" with Labour and Plaid Cymru (Welsh nationalist party). I can't ever see Labour agreeing to the full political devolution of Scotland or Wales, as to do so would be political suicide.