Marrakech (or Marrakesh if you prefer) was always going to be hot, being a North African country that borders the Sahara Desert and all that. I wasn't really looking forward to the mid 30's temperatures but figured I'd cope.
Imagine my surprise then, when we realised that our week's holiday was actually affected by a Moroccan heat wave. The temperatures stayed around 44-45 degrees C, spiking on Tuesday to 47 and on Thursday into the 50's!! It was so hot, even the camel riding was cancelled on the Thursday afternoon! This is what my daughter looked like after the morning session: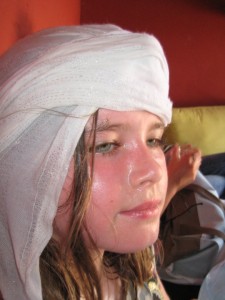 The irony was, that for the majority of the days then, it was too hot to lay in the sun, which was no hardship as I'm not really a sun bathing person. To be honest I find that idea of sun bathing moronic, and the concept of a "healthy tan" oxymoronic. It's the old correlation / causation argument. A tan can be evidence of a healthy, active, outdoor lifestyle, but in itself, a tan is not a healthy thing to have. If my body had thought that I should have darker coloured skin, it'd grow some!
Marrakech is an interesting place, with a lot of history and just 3.5 hours flight from Manchester. We did the touristy thing and visited all the palaces and tombs etc. And wandered through the souks (market) in the Medina. There's a lot made of the souks, that there are some 6000 shops there, many selling stuff that's been hand made on the premises, and for that reason, it's an interesting place to go. E.g. seeing a teenager making chess pieces with a hand bow lathe (no electricity) and his feet! But in reality, there are not really 6000 stalls, there are 6 stalls, each copied a thousand times. Once you've seen one leather slipper stall, you've seen them all. They are all the same, selling the same tourist tat.
And boy do you know you're a tourist in Morocco. Everywhere you go, you're hassled either for tips or to buy some tat. You can't even take a photo or go to the loo without someone wanting paying for it. When we went out to Ourika valley, there was a gang of local tat sellers literally following the coach around on scouters and hassling us every time we stopped to get out.
I'm fairly convinced that every guide we had was on the take too, even the official ones. Mostly by telling us where not to buy, and only taking us to shops where they were on *very* friendly terms with the owners. Rarely are goods priced, and haggling starts at ridiculous numbers: 5-10x the price they should be. For English people in particular, haggling can be intimidating and they know they've got you before you even start. I wanted a small pendant and a belt and the guy started at £50 GBP for them! That's not that far off an entire months national average income.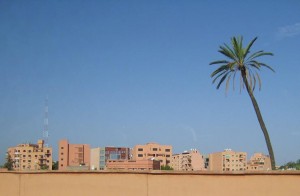 Do I recommend going to Marrakech? Yes.
Would I go back? No.
But if you do go, don't go in mid summer!