It was not really much surprise that I lost 5 pounds in the first week of my new year's diet. It's pretty common to lose a stack of retained water initially once you stop eating high levels of carbs.
So the real test is always, is that weightloss sustainable? Here's the graph for January. It shows my target weight line in green, my actual measured weight in dark blue, and a 3 day rolling average in light blue: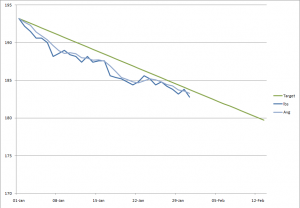 I like to use a 3 day rolling average as it helps to even out the peaks and troughs. Some days it can be pretty baffling why weight changes the way it does, so the average helps to compensate for that.
As you can see though, I'm slightly ahead of target and have lost pretty much bang on 10 lbs over the whole month of Jan. 1/3 of a lb a day seems a perfectly reasonable rate of weightloss to me. Especially as I haven't been very strict, I certainly haven't been WAMing (Weighing And Measuring) all my food. Plus there's the once a week cheat days, which are a new experiment for me, but certainly don't seem to be messing things up. The Zone is coming through for me again and I'm over half way to my target of 175 lbs (12st7 or 80kg).
However, the point of this is not weight loss, it's fat loss, which is simply measured in inches. Measuring the circumference of 5 points: waist, hips, both thighs, and a bicep and recording the change, I've lost 4 inches in January, 2 from my waist alone. It's pretty much been a steady 0.5 inch per week off my waist, which is very satisfying, and clothes are already fitting better.
All in all, a good January and I have heigh hopes for February.