I decided in the New Year to lose the weight I'd stupidly allowed myself to put on last year, and get back to a more manageable weight. I set an arbitrary target of 12st7 (175lbs / 80kg) to achieve in 2 months. Well the end of Feb arrived and I'd hit the dreaded weight loss plateaux.
So I reset my expectations and set a new target of the end of March to achieve my goal. I'm pleased to say I've hit and sustained 175 lbs with a week spare. I'll post up in the coming week some more details about inch loss and physique change (possibly with more revealing before and after pictures if you can handle the horror), but for now, you'll have to make do with a pretty graph: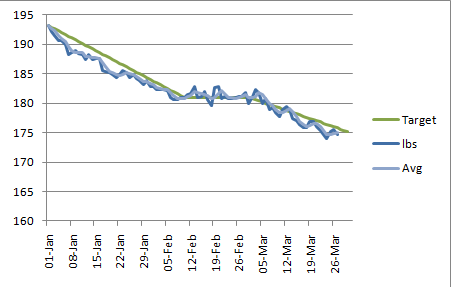 I've kept a food diary of the last 3 months, recording pretty much everything I ate, including with photos. That might prove interesting reading, so I'll see what comes out of that.