It gets my goat that politicians still haven't answered the most basic of planning questions: how many people should this country contain? I firmly believe that until you decide how many people you want in the country, you can't possibly have a sensible conversation about anything to do with the country's infrastructure. If you don't know how many people there are going to be, how can you decide for example:
How many hospitals we need?
How many teachers there should be?
How many roads to build and how wide they should be?
How many power stations we need to build?
How many people should we let into the country every year?
How much to invest in the train system?
I could go on… For so many years talk of over population has been a taboo subject, for the simple reason that if you accept the fact that there may be too many people, then you must accept that the logical conclusion is to somehow control the population, and that's something that most people instinctively rail against. Only the Optimum Population Trust (rebranded as Population Matters) seems to be talking about it openly.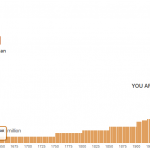 Slowly however the tide is starting to turn. Tools like the BBC's What's You Number tool that calculates what person you are in the world. I'm around the 3.8Bn out of 7Bn mark, which means that since I was born, the world's population has nearly doubled… that's staggering, and not in a good way! That's why a few years ago I wrote a rather ranty post about why IVF should be banned I realise posts like that are never going to make me any more friends, but that's the kind of thinking that stops people talking about what needs to be talked about.
So it was a refreshing change to see a serious engineer and scientist (despite what you might remember of him from the Great Egg Race) as Professor Heinz Wolff starting to talk about the difficult issues over population brings. This is what he said (my emphasis):
"But the critical subject we have to face worldwide is overpopulation. We have to be schizophrenic about the benefits of medicine and health. Overpopulation is down, to some extent, to the fact that even elementary medicine – anit-malaria treatments, anit-parasites, clean water – all reduce death rates.

"Somebody at some stage has to have the courage to ask questions about issues such as how we react to famine? To do this you have to think the unthinkable, which you can only do in your own mind because this often gives rise to opinions that would put you in a great deal of trouble – even with one's own conscience."
Whilst I accept it's only hinting, I'll take it. I firmly believe that over population, and hence population control, will become the defining political issue of our life time.