The CrossFit Games season is upon us again, but should you participate?
First off if you don't know, CrossFit (is one of the fastest growing sports in America according to Forbes magazine) and the CrossFit Games are a worldwide open competition that anyone can enter, aimed at finding the Fittest on Earth. Here's a quick history:
The latest figures show that CrossFit has 3,400 affiliated CrossFit Gyms worldwide now, a massive 60% jump from 2,100 last year, and yet entry for the open is just $20 in the US & Canada, or $10 everywhere else. What's on offer, apart from the kudos, is $1M in prize money! The men's and women's individual winners each get $250,000 and the rest is spread out amongst 2nd and 3rd, the team events, masters divisions and regional heat winners.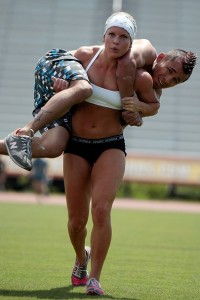 Sign up for the Open and you'll get 5 workouts over 5 weeks to do. They are issued on a Wednesday and have to be completed by the Sunday each week. Ideally they should be validated by a registered CrossFit Affiliated gym, or if you can't make it to one, by video submission (but you run the risk of disqualification after the fact e.g if your form is bad or you miscounted etc).
That's all well and good if you're some major athlete, but the likes of little old me aren't going to stand a chance of winning anything, so what's the point? Well let me tell you that I've never entered the CrossFit games, but this year I'm seriously considering changing that stance, and here's why:
1) Community Spirit – There's nothing quite like working towards a common goal to bring people together. One of the major reasons CrossFit is such a success is because people love the community it engenders. If you're wanting to make better friends with the people in your gym, entering a competition together will help do that.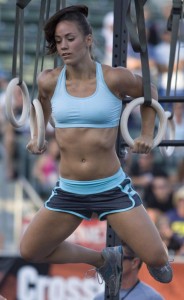 2) Personal Gain – It's useful to have a reason to train in terms of some personal goal, whether that be a sense of pride in performing to your ability, or not wanting a sense of guilt / embarrassment at not, it doesn't matter. It's long been known that publicly saying you're going to do something, galvanises the mind and provides extra motivation to do it.
3) Benchmark Yourself – Last year some 25,000 people from every possible demographic competed in the games, this year there'll be more. You'll be able to see exactly how your fitness compares to that of your peers.
4) Mental Growth – The Games are designed to test the fitness of the fittest people on earth, and choosing to compete in that environment will put you outside your comfort zone. This is a good thing! Ambulating through life, always feeling cosy and snug and comfortable, is a slow way to dull life. Push yourself occasionally and marvel at your own ability to overcome. 🙂
So even if, like me, you don't have any illusions of grandeur, there are still some very good personal and social reasons to participate. I'm off to sign up, how about you?